FAQs
We know there's a lot to take in about your child's education at Nazareth School, so we've put together the answers to the questions we hear the most. Of course, we're always happy to help; just give us a call.
---
What is the dress code at Nazareth School?
We have mandated a uniform to create a sense of community and to encourage students to focus on the learning environment. In addition to the school uniform, we require students to wear a uniform during physical education.
We expect all students to wear either the full uniform or the uniform option (walking shorts).
You may purchase school uniforms through Dennis Uniform Manufacturing Company. Our PTG also organizes a sale of gently used uniforms each year.
Our Parent Teacher Group runs a uniform resale program where you can purchase gently used uniforms that children have outgrown.
We may relax uniform codes for celebrations of school spirit or for special community events.
We will inform parents in advance of events where we encourage special dress options.
For specific uniform details, including formal Mass attire, please refer to the parent-student handbook.
Back to Top
What are the school hours?
School Office Hours
7:45 a.m.–4:00 p.m. - Normal School Days
7:45 a.m.–1:30 p.m. - Minimum School Days
Closed on school holidays
School Class Hours
8:00 a.m.–2:45 p.m. - Normal School Days
8:00 a.m.–11:55 p.m. - Minimum School Days
Students arriving before 7:45 a.m. must report to the "Extended Care Program." We do not provide supervision on the school grounds before 7:45 a.m. 
Unless participating in the extended care program or other supervised activity, we require students to leave the campus immediately after dismissal. Any students who haven't been picked up by 3:00 p.m. must go to the extended care after-school program and will be charged accordingly.
Back to Top
How do I log in to a virtual classroom, online learning sites, or join Zoom conferences?
We've put together some helpful videos and materials on our eLearning page to get you on your way. For school-specific login codes, please contact your child's teacher.
Back to Top
How do I order hot lunches?
Each month we will send a menu/order form home with your child. (Can't find it? Download it from our News page!) Circle the meals you would like to order, and return the form together with a check made payable to "Nazareth School" by the specified date. This program is not mandatory; students are always welcome to bring lunch from home.
Back to Top
How old does my child need to be to attend preschool?
Students as young as three and up to five years old may attend our amazing preschool. Learn more about it.
Back to Top
What is Gradelink?
Gradelink is just one more way we communicate with Nazareth School families. Teachers post students' grades to this online platform, which allows parents to review their child's grades at any time. We encourage you to review their child's grades on a regular basis and to discuss with your child his/her progress in class.
Back to Top
My child must take medication during the school day. How do I set this up?
Any student taking prescribed medication during school hours must bring the medication to the school office with a doctor's slip and a note from the parent/guardian requesting that we dispense the medication. For the protection of all students, we will only dispense medications from the office. We do not permit students to keep any type of medication in their desks or on their person while at school. 
Back to Top
What do I need to do if my child will be absent from school?
Please call our office at (619) 641-7987 before 9:00 a.m. on the day of the student's absence. When a student returns to school, please provide a written excuse stating the reason for the absence.
Back to Top
What are the volunteer requirements?
As part of the school's commitment to maintaining a safe environment for our children, we require all volunteers who work with the children in an unsupervised capacity to obtain CMG clearance. This is a background check authorized through the Department of Justice and the Federal Bureau of Investigation. A fee applies. Volunteers who have been live scanned with the San Diego Diocese do not have to complete a background check through the CMG site. Please contact our office for more information.
Diocesan Policy on the Protection of Our Children
Nazareth School follows the approved guidelines established by the Diocese of San Diego and the Congregation of the Sisters of Nazareth in its efforts to maintain a safe environment for our children. Periodically during the school year, we share information with both students and parents regarding issues of social and physical safety. Members of the Nazareth faculty and staff are mandated reporters whose concern is the well-being of the children entrusted in our care.
Back to Top
May my child use a cell phone at school?
We do not allow cell phone use (including any applications) before, during, and after school unless previously approved. We will confiscate the phones of any students who use a cell phone on school grounds without permission. Parents may retrieve phones from the office.
Back to Top
What is the drop-off and pick-up procedure?
Parents must stay in the single line of cars and pick up their children from the designated area after school. Please do not use the parking lot unless you are here for school business. Please do not encourage your child to leave the safe area to meet you; it is essential to student safety that they remain in safe, supervised areas. We require students to wait in the designated areas at the carport or in front of St. Joseph Building.
Exercise extreme caution—we must protect the children's lives at all costs. Parents should drive very slowly through the grounds, and we strictly prohibit the use of cell phones while driving on school grounds. Vehicles parked in the fire lane are subject to towing.
Parents and children walking between the school and the St. Joseph building should use the designated crosswalks.
Parents, if you designate someone else to pick up your child(ren), please inform him/her about these safety regulations.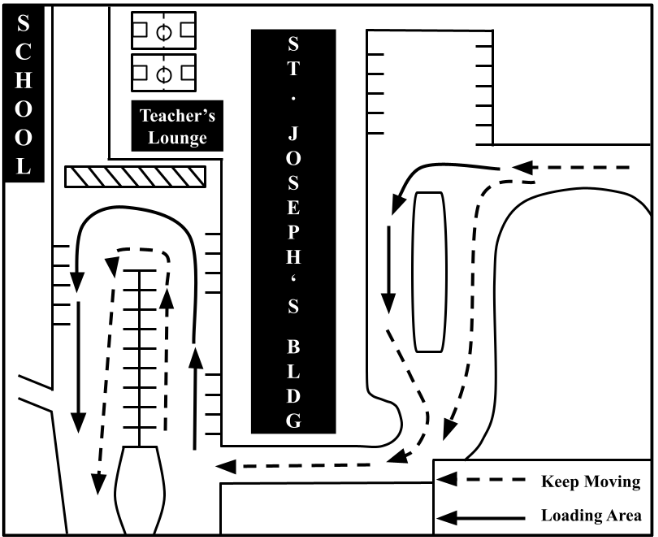 Back to Top