Preschool
Our youngest learners exhibit wonder and scatter sunshine everywhere they go. Naturally inquisitive, preschool children love to learn about the world they live in through hands-on activities, play, and song. Nazareth Preschool is a beautiful setting where your little one will experience the gift of learning encircled by love.
Nazareth Preschool Philosophy
Nazareth Preschool's staff provides a safe, loving, and nurturing environment for our students. Enriching our Catholic faith with simple and concrete experiences is an important part of our program. Through our faith-based curriculum, our students participate in daily prayer and community stewardship. Our students have the opportunity to learn and grow during both teacher managed/structured activities as well as organized play activities. Teachers stimulate academic growth by focusing on the whole child, spiritually, socially, emotionally, physically and culturally. The potential and creativity of all children are vital as they continue their journey as lifelong learners. At Nazareth Preschool, we consider it a privilege to partner with parents in fostering each child's success as they become Disciples of Christ within the Church family and community.
Preschool Classes
We offer the following two preschool classes:
Sunflowers (ages 3–4)
Buzzy Bees (ages 4–5)
Our Days
You'll find the children learning about religion, math, science, social studies, and foreign language. Other lessons may stir their interest in writing, computers, reading, art, health, music, and movement. Through positive guidance, the children continue to master cognitive, spiritual, physical, social, and emotional skills in preparation for Nazareth School.
Our Abundant Space
We enjoy the blessing of an abundance of beautiful space for both our indoor and outdoor activities. Inside, the children's daily experiences take them from their classroom to a comfortable nap room and a music room for musical and physical expression. Outside, our spacious grounds provide the children with playgrounds complete with toys, play equipment, and an inviting lawn for more social interaction.
Our Preschool Garden
Additionally, we share a beautiful garden with Nazareth friends in the kindergarten class. In this special place, we learn about the many gifts God provides us in nature.
Nazareth Preschool Now Enrolling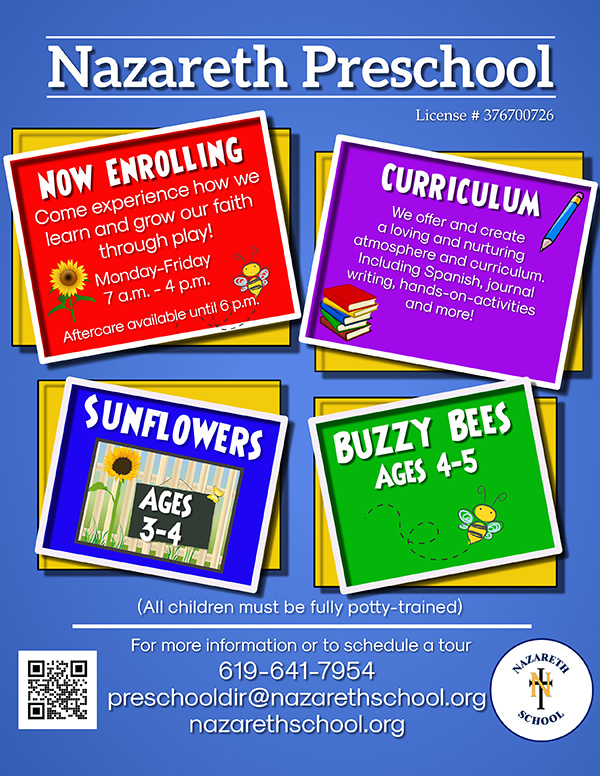 Come experience how we learn and grow our faith through play! Preschool takes place on Monday through Friday from 7:00 a.m. to 4:00 p.m., with aftercare available until 6:00 p.m. We offer and create a loving and nurturing atmosphere and curriculum including Spanish journal writing, hands-on activities, and more!
Our preschool classes consist of the Sunflowers for ages three and four and the Buzzy Bees for ages four and five. Please note that all children must be fully potty trained.
For more information or to schedule a tour, please contact us via email or phone at (619) 641-7854.
Meet Our Preschool Team